Do you want to take your online business to 6 figures and beyond? Then you will need this book; DotCom Secrets
Does this 254-page book contain all the shortcuts you need to build a profitable sales funnels?
Well, we'll show you a secret that can take any business to 6 figures and beyond inside this DotCom Secrets book review…
We'll also share with you how the Dotcom Secrets book can make everything EASY for you even if you're just starting your online marketing journey.
But it gets better:
This underground playbook reveals evergreen strategies Russell Brunson and thousands of funnel hackers currently use to sell, market, and deliver their products and services online fast…
Inside this great book are ALL the formulas, funnels, and scripts that you need to be successful online…
Let's dive in…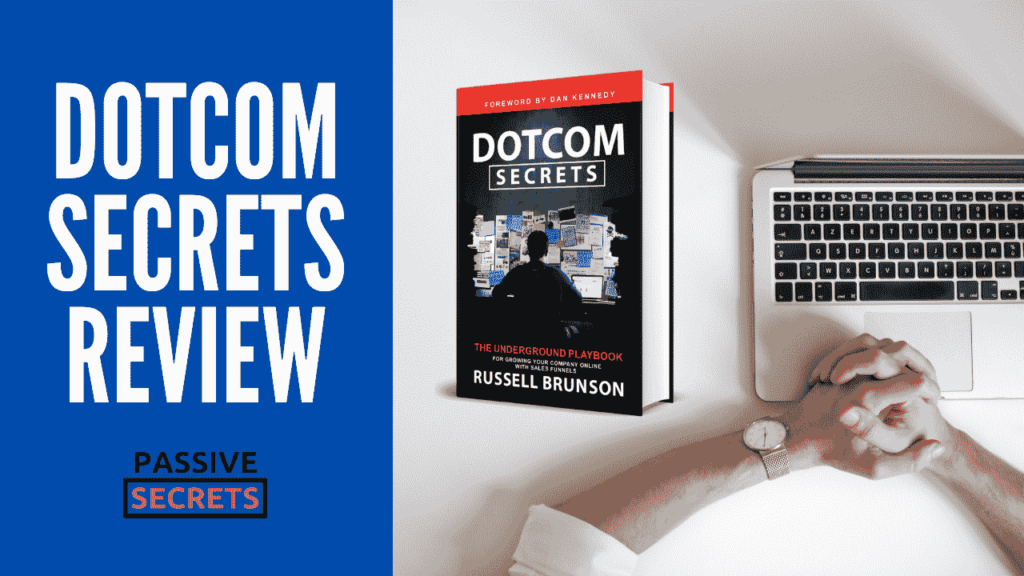 Here's what you'll learn in this DotCom secrets book review:
If you want to purchase the book now, then grab my Dotcom secrets book review bonuses (Priceless) here.
What is DotCom Secrets?
DotCom Secrets book is the underground playbook for growing your company online.
Russell Brunson published the book back in 2015, and yet…
The strategies in this book are still evergreen and used by the most profitable online businesses today.
Look:
Russell structures the book in an easy to read, step by step process ANYONE can follow.
He explains the "secrets" in this book with personal stories and experiences that have occurred in his life and business.
Russell also writes in a charming and entertaining style that will keep you hooked till the end…
With over 600+ Amazon reviews, it's no surprise this great book is forwarded by the legendary Dan Kennedy…
So…
Who Is Russell Brunson?
Russell Brunson is a highly successful online entrepreneur who started his FIRST company selling potato gun DVDs online while he was still in college.
Currently:
Russell is the highest-earning public speaker. He made over $3million on stage from his presentation at Grant Cardone's conference in 2018.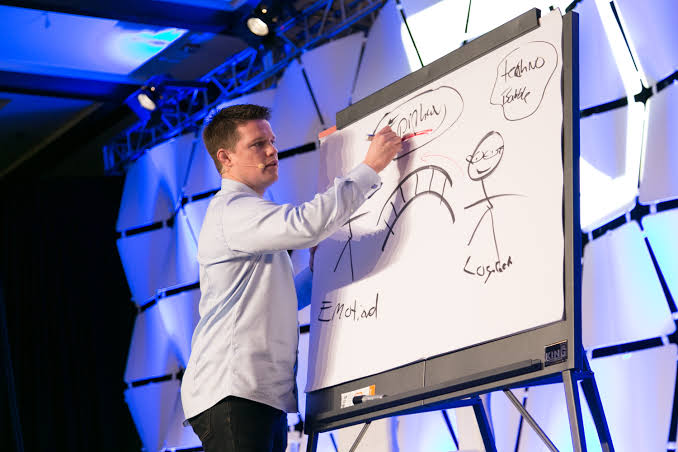 Today, he is one of the most popular internet marketers in the world with a following of over a million entrepreneurs.
But it gets better:
Russell co-founded the software company called ClickFunnels that helps tens of thousands of entrepreneurs quickly get their message out to the marketplace.
ClickFunnels is valued as a 360 million dollar business, one of the fastest-growing SAAS companies today, as reported by Forbes…
He did this all entirely self-funded.
Here's the kicker:
Due to ClickFunnels' success stories, Russell created a private club for those who made at least $1,000,000 through a single funnel.
He calls it the 2-comma club and currently, there are over 400 entrepreneurs, just like you, who have won the 2 comma club award.
Inside Dotcom Secrets Book
There are 5 sections which include 13 secrets with 7 funnels and scripts.
Here's a brief summary of each of the sections and what you'll learn:
Section One: Ladders and Funnels
Secret #1: The Secret Formula
Most of us start with a product idea, never thinking of who we want as clients…
Forgetting the fact that we'll probably end up spending more time with these clients than our friends and family.
So why wouldn't you take time and care in deciding who your dream client or customer will be?
The secret formula will help you know who your dream client is, where to find them, what bait to use to attract them, and what result you want to give them.
Secret #2: The Value Ladder
In this chapter, you'll learn how to create your value ladder for your business…
A value ladder is kind of like arranging your products and services in ascending order of value from lower pricing to higher pricing.
Russell also reveals how to structure your business into a value ladder, even if you don't have a product or service yet.
Secret #3: From a Ladder To a Funnel
With your value ladder created…
This is where you'll learn how to to map out your sales funnel for each step of your value ladder.
A sales funnel is the online process you take someone through and get them to ascend up the different levels of your value ladder.
A funnel is simply the actual web page that educates and sells your client on your product or service…
And yes, this blog post could be a funnel as you'll soon discover in secret #11.
Implementing this strategy alone can take your business to 6, 7 figures and beyond.
Secret #4: How to Find Your Dream Customers
Look, there are congregations of people for everything you can dream up…from antique buyers to zipper collectors.
Once you understand the core concept of congregations, driving traffic becomes easy.
You'll discover how to fill your funnel with your dream customers when you answer 4 questions:
Who is your target market?
Where is your target market congregating?
How can you get a customer to leave the congregation and check out your funnel?
Secret #5: The Three Types Of Traffic
According to Dotcom Secrets book, there are only three types of traffic:
Traffic you control
The traffic you don't control
Traffic you OWN
Understanding how each traffic works and how they tie together will give you the ability to convert the highest number possible into buyers and repeat clients.
Inside DotCom Secrets, you'll learn everything about traffic and which type of traffic you should focus on the most.
Section Two: Your Follow-Up Funnels
Secret #6: The Attractive Character
Now the fun begins:
Here, Russell Brunsons starts by breaking down how to effectively build an audience of buyers and loyal followers with a concept called the attractive character.
The attractive character is simply the persona you're sharing with your audience.
And the truth is:
Most entrepreneurs never put in the time and effort to do a good job creating a believable persona.
Below is the sketch you'll use to learn how to become an attractive character.
Russell Brunson explains every item in detail inside the book.
Secret #7: The Soap Opera Sequence
This is the second half of this section and probably the part that will make you the most money.
The soap opera sequence is a series of emails you send someone when they first join your list.
The goal of this email sequence is to create an instant bond between your attractive character and your audience.
The strategy works by building up an open-ended dramatic story that draws the reader in and keeps them reading your every email…
And inevitably, gets you higher open and click-through rates.
Inside the DotCom Secrets book, Russell shares the EXACT email templates he uses.
Then, he takes you through, step by step, on how to create your own 5-day soap opera sequence.
Secret #8: Daily Seinfeld sequence
The daily Seinfeld email sequence is the emails you send your list after they go through your soap opera sequence.
But, the daily Seinfeld sequence is different from what I have ever seen. They are mostly 90% entertainment and 10% content.
Russell explains how to craft this and use it to drive people back to what you are selling.
He shares his exact templates, all inside the Dotcom Secrets book.
Section Three: Funnelology
Secret #9: Funnel Hacking
In this chapter, you'll learn how to reverse engineer your competitors' sales funnels so you can understand what they are doing and where their traffic is coming from which means…
You'll be able to ethically steal all their potential customers.
Russell references SimilarWeb.com as the place he starts his funnel hacking process. He explains exactly how you can use it, step by step, in this presentation here.
Secret #10: Seven Phases Of A Funnel
Do you want to know the difference between a six-figure, seven-figure and eight-figure business?
Inside DotCom Secrets, Russell Brunson states that:
"The real difference between having a six-, seven-, or even eight-figure business is whether you understand the phases of a funnel and can successfully monetize the different points along the line"
Everything changed for me when I understood that your Pre-Frame bridge is the most important part of your funnel.
Russell explains each step and how to go about them, all in the detail inside the book.
Also, you'll learn how to pre-frame ALL your sales funnel for higher sales.
Secret #11: The 23 Building Blocks Of A Funnel
This chapter reveals the type of web pages to create for the funnel building phases in the chapter above.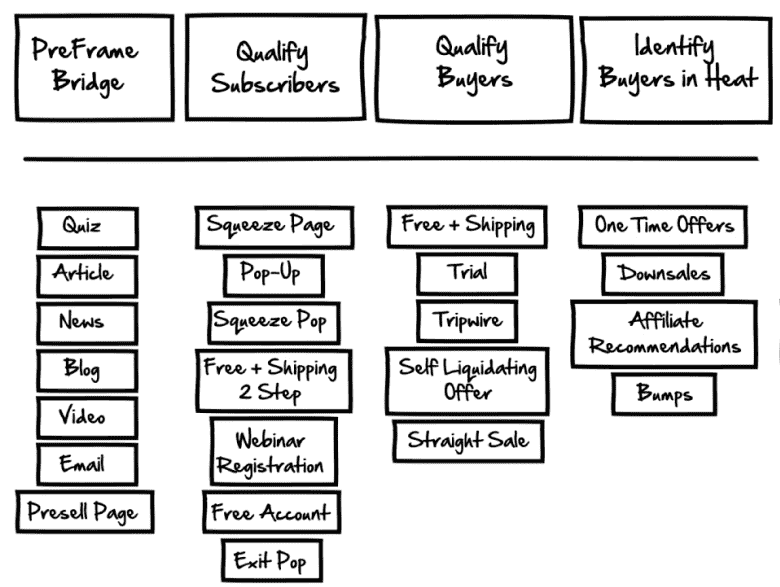 I'm sure you can now see how this blog is my "PreFrame Bridge" for the DotCom Secrets Free+Shipping Funnel?
Let's continue:
Secret #12: Frontend Vs Backend Funnels
Here, Russell breaks down traffic into different awareness phases.

Then he shows you how to Russell merge this with your value ladder.
Secret #13: The Best Bait
To me, this is the secret that makes his book worth millions…
Look:
Most top internet marketers don't want you to know this secret.
Russell exposes how he uses to almost instantly break even on all his funnels.
He tells the story of a 100 visitor test that more than double his online income.
Section Four: Funnels And Scripts
In this section, you'll get ALL Russell's scripts so you can use them for each page inside your sales funnel:
Funnel #1: Two-Step, Free-Plus-Shipping Funnel
For your frontend funnels at the bottom of your value ladder, the script to use is called the who-what-why-how script…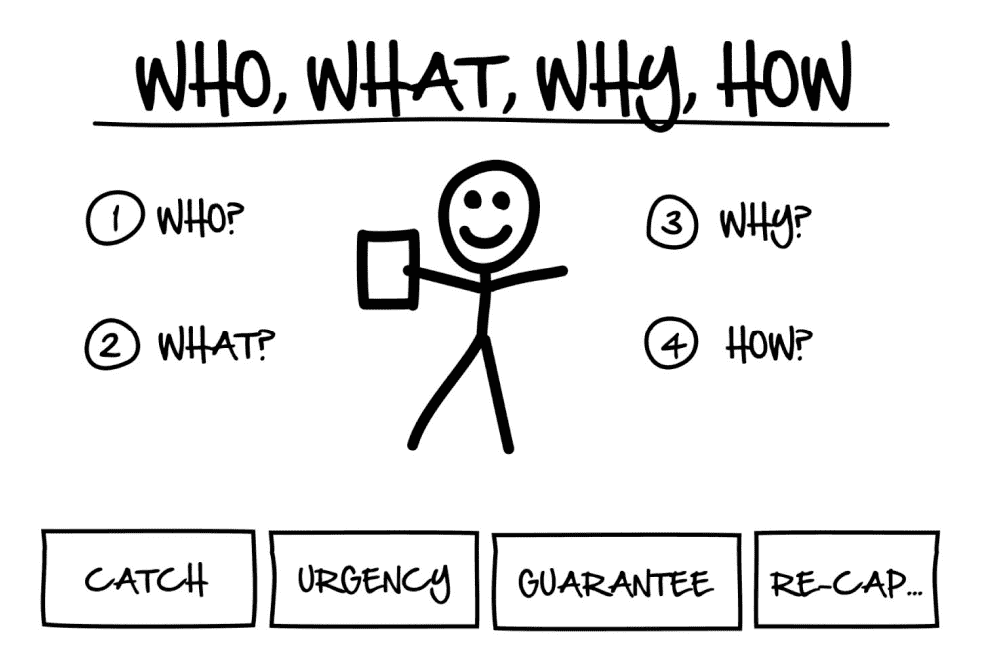 Then, immediately your customer buys your frontend offer, you can then upsell the next product on your value ladder with a script called the OTO (One Time Offer) Script.
Inside the book, Russell gives you fill-in-the-blank templates of both scripts so you can easily implement it into your business.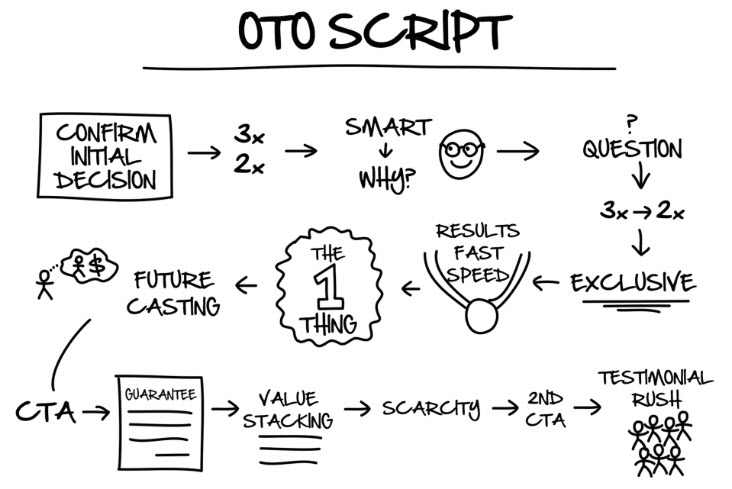 Funnel #2: Self Liquidating Offer (SLO) Funnel
This funnel is used when you are selling a product that's priced anywhere from $27 to $97 dollars.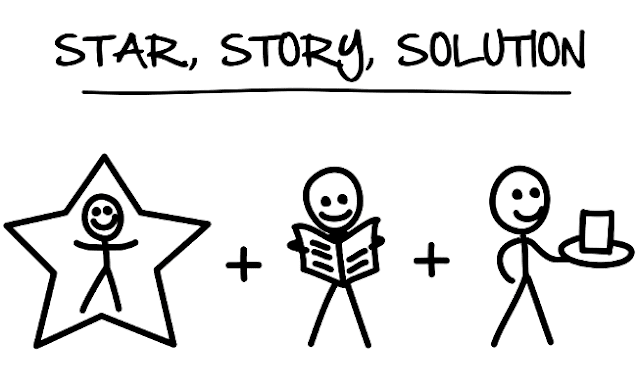 The Star, Story, Solution script works best here.
Russell explains how to apply this script and also gives you fill in the blank templates so you won't waste any time when writing out your sales script.
Funnel #3: Continuity Funnel
Continuity is when you get paid regularly, usually every month, for ongoing access to information or software or some other product.
For this funnel, you can use any of the scripts we discussed above.
If you are selling a free or $1 trial, then you can use the who-what-why-how or OTO script.
If you are selling continuity without a trial, Russell recommends you use the Star-Story-Solution script.
After they have purchased your membership package, you can then create a One Time Offer using the OTO script and plug it into the backend of your funnel.
Russell found out that yearly or lifetime accounts to be incredibly effective upsells with continuity programs.
Funnel #4: The Perfect Webinar Funnel
Webinars have become extremely popular sales tools over the past years.
You can use it to easily get people into the middle of your value ladder.
Inside Dotcom Secrets, you'll get the funnel blueprint and script so you can easily create your own perfect webinar funnel.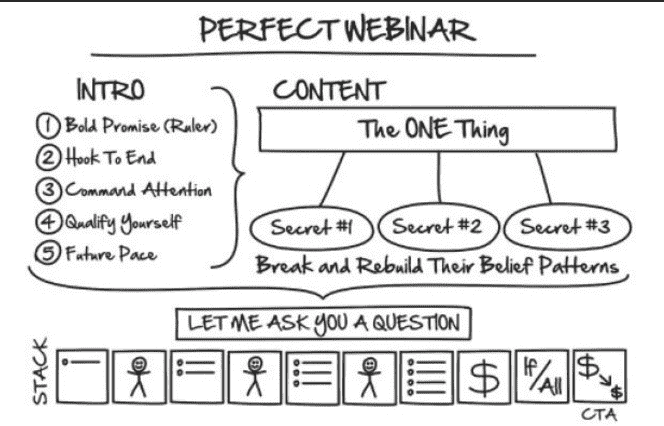 In the book, Russell gives you fill in the blank templates so you can easily write out your own perfect webinar.
Funnel #5: The Invisible Funnel
You can use this funnel to sell stuff in the middle of the value ladder.
This is kinda like the perfect webinar, but a little more advanced when it comes to strategy.
It uses a different script call the Magic Bullet Script.
Funnel #6: Product Launch Funnel
This is also used for the middle of the value ladder.
As the name implies, this funnel can be used to launch your products to your audience.
The Funnel also uses the perfect webinar script found inside the Dotcom Secrets Book.
Funnel #7: High-Ticket, Three-Step Application Funnel
Here, Russell shows you the exact same funnel he uses to close his high ticket consulting and coaching funnel.
This funnel involves a two-step script and he also shares the templates inside Dotcom Secrets.
Section Five: ClickFunnels – Ignite Your Funnel
In this chapter, Russell shows you, step by step, how to build out your own funnel inside ClickFunnels.
ClickFunnels is an all in one marketing tool that gives you everything you need to successfully create the types of sales funnels Russell has been teaching you in the book.
You don't need to know an ounce of coding, be a techie person or know how to design to be able to use ClickFunnels.
ClickFunnels makes building funnels easy and fast.
You can read my ClickFunnels Review to learn more about ClickFunnels.
How Dotcom Secrets Changed My Life And My Business?
When I graduated from college, I wanted to be an entrepreneur.
But, I was so broke at the time and I just wanted to make some money online.
I knew online marketing could set me and my family free…
Yet, I couldn't afford any online marketing course because these experts just charge so high.
Then one day, a friend sent me a link to a FREE course.
I went through the course and the amount of value I got for FREE was incredible.
In the training videos, Russell kept saying that we could find everything he was teaching all inside Dotcom secrets.
So I went ahead and got the book. This is where I learned the concept of an attractive character and how it is key to growing an audience of people that know, like and trust you.
I am a shy person and don't really talk much in real life. So the scripts Russell shares made everything easy for me too.
I used the attractive character and Russell's scripts to write out a 5-day soap opera email sequence promoting Funnel Hacks.
I signed up for Free trial of ActiveCampaign, built out my funnel in just one day, and plugged in my email sequence.
Then I drove traffic to my funnel.
What were the results?
Because of this, I earned my first $500 before ever paying for a ClickFunnels account.
I'm now on my journey to build a 6 figure online business and setting my family free.
Dotcom Secrets Review – Underground Playbook For Growing Your Company Online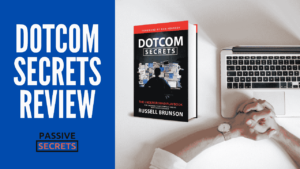 Do you want to take your online business to 6 figures and beyond?
URL: http://ogbonnaohakwe.com.ng/dotcom-secrets-book-review/
Author: Russell brunsonEditor's Rating:
4.8
Dotcom Secrets FAQs
How much is Dotcom Secrets?
DotCom Secrets book is currently selling on Amazon for $11.34. Or you can get the Kindle version for $8.69.
However, Russell gives the book away for FREE on his website. You'll just have to cover the small shipping and handling fee of $7.95.
I recommend buying directly from Russell because not only do you save more money…
If you don't like the book, Russell will return your shipping fee and let you keep the book anyway.
Plus, you also get to see the 2-step Free plus Shipping funnel in action. You can get the book here.
Dotcom Secrets or Expert Secrets, Which I should I read first?
The two books are completely different. Expert Secrets Book will teach you how to find your voice and become an expert. It also covers more on persuasion and it goes deep into the Perfect Webinar Script.
You will also understand the funnels and scripts inside the Dotcom Secrets better when you read the Expert Secrets book.
I recommend you start with Dotcom Secrets book first as Russell references it a lot in the Expert Secrets book.
You can get Box Set as a One Time Offer in the Dotcom secrets funnel.
What are the Upsells in Dotcom Secrets Funnel?
Here are the upsells inside the Dotcom Secrets Funnel:
– DotcomSecrets Book: FREE
– Order Bump #1 – Audio Books $37
– Order Bump #2 – 2 Day Event $97
– OTO #1 – Box Set + 2 additional options $97
– OTO #2 – Funnelytics $397
– Thank-You Page – Funnel Builder Secrets: $1,997
Is there a Dotcom Secrets Affiliate Program?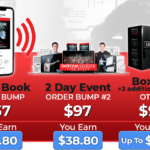 Yes, Dotcom Secrets book is one of the products inside the ClickFunnels affiliate program and you can sign up here.
Final Thoughts
The Dotcom Secrets book is one of the best books I have ever read on the topic of internet marketing and sales funnels.
Russell makes the book so easy to understand and puts everything in a step by step system so you can easily implement the strategies into your own business.
There are so many evergreen strategies in this book that I often find myself reading the book over and over again, and yet still learning something new each time.
I highly recommend you get Dotcom Secrets book.
This is truly the underground playbook for growing your company online and it's a must-have for any serious entrepreneur and online business owner.
---
Dotcom Secrets Bonuses (Priceless)
If you ready to take action now and use any of the buttons on this page to get the Dotcom Secrets book. Here are the exclusive bonuses you'll get:
Bonus 1: Autoresponder Madness so you can master email marketing and the Soap Opera Sequence ($297 Value)
Bonus 2: The Ultimate CF Share Funnel Library With Over 60+ high converting done-for-you funnels ($497 Value)
Bonus 3: Access to a private members-only group where you can get access to me and lots of other top marketers and influencers so you can get all your questions answered (Priceless)
To get my Dotcom secrets bonuses, all you need to do is get Dotcom Secrets using the button below. Make sure to open the link in an incognito window and clear your browser cookies.
The bonuses will be sent to you within 24 hours. You can send your receipt to info@passivesecrets.com to have your bonuses sent to you immediately.
---
Click Here To Get The Dotcom Secrets Book Now
Disclosure: I hope you enjoyed this DotCom Secrets Review. Please note that I am an independent DotCom Secrets Affiliate, not an employee. I may receive referral payments from Etison LLC at no extra cost to you if you purchase the book using my link. That's how I get to keep this blog running and bringing you more in-depth reviews like this.